Next:
INRO Announcements
Up:
EMME/2 News 6 July 1988
Previous:
Enhanced Macro Commands - Some
Following an idea that was brought to our attention by an EMME/2 user, module 6.12 "Plot auto times and volumes" has been enhanced to include an option to display the link volumes and the turning movements of the individual turns of the intersection nodes on the same plot. This integrates the detailed intersection node diagrams from module 6.14 into network volume plots, allowing one display to contain the complete auto volume information. The following example shows a small window of the CBD area of Winnipeg: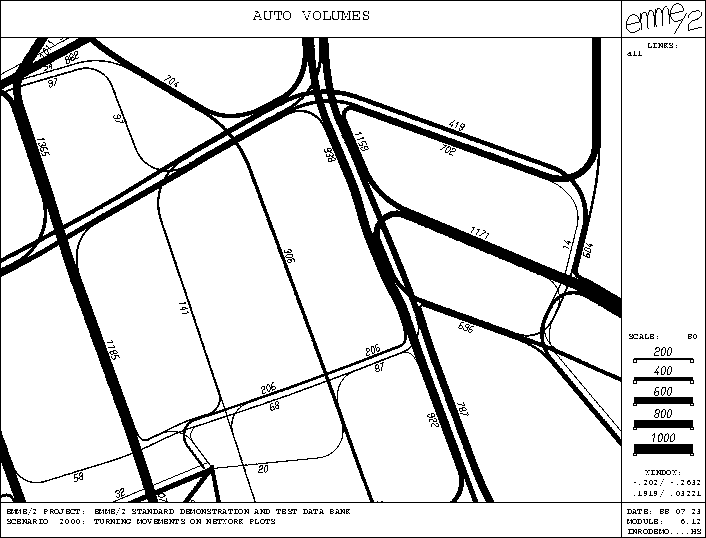 The intersection nodes are taken as a circle with a certain radius within which the turning volumes are displayed in a similar manner as in module 6.14. The radius of the intersection node is determined by a module parameter, but will never exceed 40% of the length of the shortest incident link. This assures that adjacent intersections will never overlap. As was already the case for the links, a node color index can be used to color individual intersections. Since intersections that have a color index of 0 will be handled as a regular node (no turning movements display), a plot can be tailored to show details only on specific intersections.
This new option also offers the possibility to display freeway ramp geometry much more realistically, as is shown in the following example: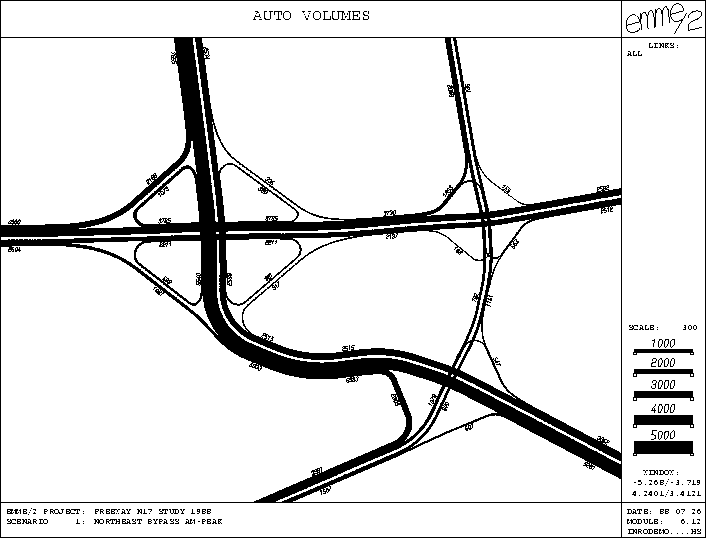 This new version of module 6.12 has already been installed at selected user sites for beta testing and it is scheduled for general distribution with the next official release of EMME/2.
---



Next:
INRO Announcements
Up:
EMME/2 News 6 July 1988
Previous:
Enhanced Macro Commands - Some
---
Heinz Spiess, EMME/2 Support Center, Thu Jun 6 14:16:08 MET DST 1996