Next:
Extra Function Parameters
Up:
EMME/2 News Number 20September 1998
Previous:
Editing Extra Attributes in Base
After having introduced multi-layer volume plots in module 6.12 to display the results of multiclass auto assignments in Release 8, it is only natural that many users have asked for a possibility to do the same type of plots for other link attributes as well, and not just for auto volumes.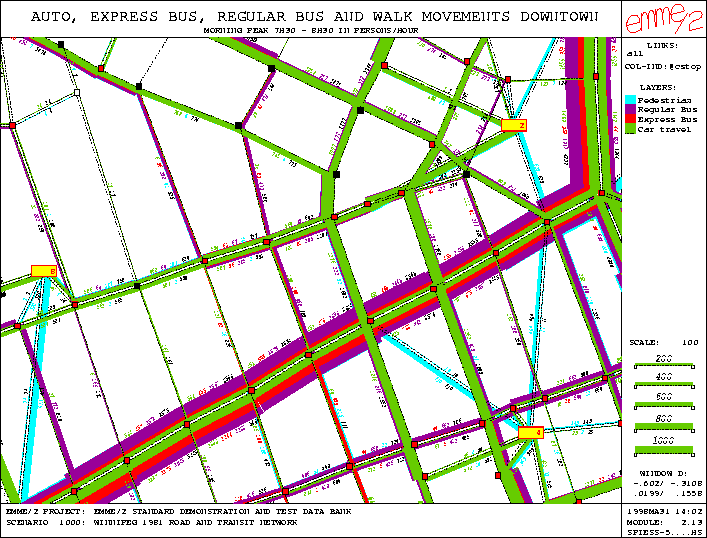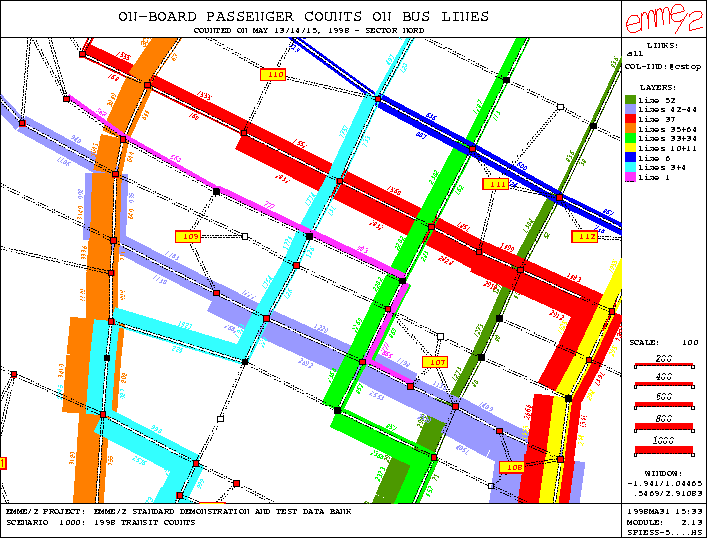 In Release 9, module 2.13 has been enhanced to allow the generation of multi-layer link attribute plots. Compared to the old, single attribute displays offered so far by module 2.13, this new feature introduces the following new possibilities:
Up to 12 link attributes can be displayed as separate layers on the same plot.
Each layer is colored with a user specified color index.
Each layer corresponds to one of the following link attributes: ul1, ul2, ul3, any available extra link attributes or, if the scenario contains the corresponding assignment results, volau, volad or volax.
For each layer, a legend of up to 12 characters can be specified by the user. By default the attribute name is used as legend.
The attribute values can be displayed numerically, as proportional link bars or as a combination of both. Optionally, the total of all values can also be displayed numerically.
The display of the numerical values can optionally be limited to a user defined link subset. This allows the display of numeric values on selected links only, e.g. to restrict the numbers to links which are important from the application point of view, or to avoid numeric values on links where this would cause undesired graphical overlaps.
The nodes for which the node numbers or labels are displayed can optionally be restricted by a separate subset selection. This way, it is e.g. possible to only display the centroid numbers and use small node boxes without numbers for the regular nodes.
The background of the node boxes can optionally be filled by a user defined color, either the same color for all nodes or using a color index attribute. This type of node filling can be used to block out link information which otherwise would overlap with the node boxes.
The default color used for the text in the node boxes (black), as well as the colors for the centroid boxes (green) and regular node boxes (black) can be redefined by the user, if so desired.
The main plot title and an optional plot subtitle can be specified by the user directly at the dialog level.
This new plot type offers many other enhancements in addition to its multi-layer capability and can of course also be used to display a single attribute. In this case, depending on the setting of the corresponding module parameter, the links can also be individually colored, by means of a color index attribute.
---



Next:
Extra Function Parameters
Up:
EMME/2 News Number 20September 1998
Previous:
Editing Extra Attributes in Base
---
Heinz Spiess, EMME/2 Support Center, Mon Mar 15 21:32:56 MET 1999